Suppose you have a friend you want to see every 3 months. This app helps you create email invitations to meet and, after 3 months, reminds you that it is time to send another invitation to catch up.
ForgetYouNot automates the process of catching up with your friends. The App will let you know when you are due to catch up with each friend because you have declared a frequency (in months) per friend, and the app remembers when you last organised to catch up. For new meeting invitations, the app proposes two meeting options for your friend to choose from - taken from free dates and times in your calendar, and may be amended prior to the creation of the invitation email. Meeting date & time preferences can be tweaked via settings within the app, as can the email template for a more personalised invitation.
ForgetYouNot was developed by Aurita for 64PLUS
Demonstrates
Xamarin development
iOS Calendar Event integration
Working with iOS Contacts and managing Local Notifications/Alerts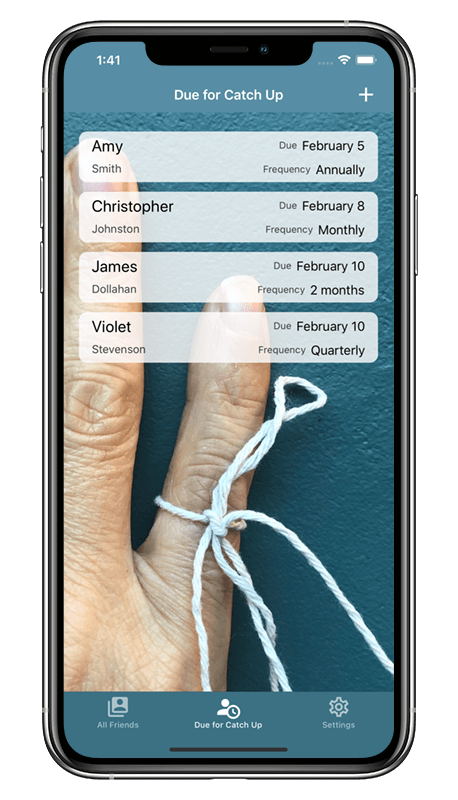 In the words of our client...
I came to Aurita as a complete App novice, someone who uses apps and loves podcasts, but hadn't the foggiest idea of the science behind app construction. I didn't even know if the app was feasible and certainly not within my budget. I also wanted to create something intuitive and simple, and for that I needed to compromise at the design phase and concede that the app would have to pass control to email at some stage.
Therefore it was critical to work with a team that could translate my high-level idea for ForgetYouNot into a practical implementation. In particular, I worked very successfully with Jared who led me through the design and testing phase, along the way helping me to understand the features I could and couldn't have, within my budget and my desired level of simplicity.
The outcome has exceeded expectations, so I wouldn't hesitate to recommend that others should start a dialogue with Aurita for any app needs they may have.