Adherettes
Adherettes has wide ranging experience with large-scale corporate signage and branding projects and has built brands for some of Australia's largest companies.
Adherettes partnered with us for our Internet of Things (IoT) and software expertise to help them deliver office signage to one of their clients.
We went through several iterations, building multiple prototypes to prove the concept and develop a running system. Finally, we built a mesh of microcontrollers connected via Wi-Fi to control all signs in real-time via a single app on a mobile phone.
By the numbers:
42 office signs managed by the Android app, we built...
1,041 LED boards containing...
199,872 individual LEDs controlled by our software
Demonstrates
Hardware prototyping and design
Microcontroller development
Native Android app development
Wi-Fi networking skills
Full cycle IoT development from proof of concept to production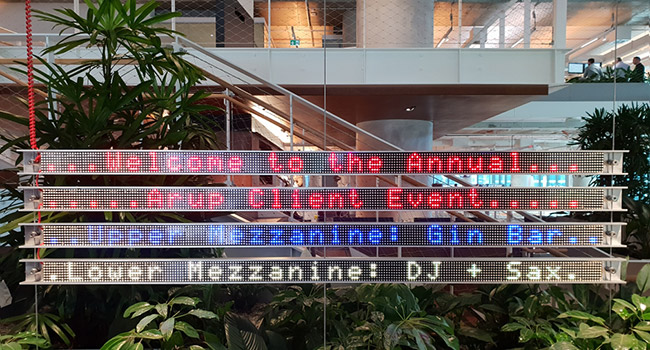 In the words of our client...
We needed a solution for our client ARUP, which we could not resolve in house. Our biggest concern was the budget as it was quite tight.
Then we discovered Aurita, who were very supportive and accommodated our needs. Their willingness to meet our timeframes to deliver on the project milestones is a rare attribute these days. And with their innovative approach, helped us keep costs under control.
Woking with Aurita enabled us to deliver the Digital Directory for our client's head office, on time and on budget. As well as being easy to work with, they are reliable and trustworthy.
We will be definitely be working with them again.